Boulder Open Arts Fest Day 2 + Time To Go Home…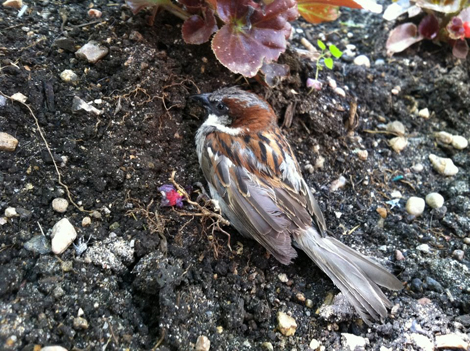 My Sunday at the arts fest started out with finding this little bird in a flower bed next to my tent. It looked like he was injured — he wasn't flying, his heart was pounding, and at first he had one leg up in the air (who knows!). I figured if there was anywhere that has services for injured birds, it would be Boulder, so I tried to do some contacting but wasn't very successful on an early Sunday morning. Within an hour, however, I saw another bird show up and they both hopped out of the flower bed and eventually flew away, so maybe he just hit the tree or something and was in shock and needed some good bird-word to get him going. Whatever… it's a great story in my head.
All in all, the festival was great, and I'm coming home with a much lighter load than I started with. Thanks so much to all you folks who stopped by – thank you for your purchases, your kind comments, your conversation, etc. Thank you to the weather gods who kept the rain to the west. It was a good time all around.
I'm not totally sure I'm ready to go home yet – I love being out here wherever 'out here' is. But it's nice to have a comfortable place to go home to, for which I'm always thankful. In a few short hours, I'll be hitting the dusty east-bound trail toward some major heat and drought and reality. Lots of online orders & new retail store stock to get together and ship out this week, plus several commissions and a ton of emails to respond to (sorry if I owe you one – I promise I've read yours and I'll get back asap). Also some major house organizing to do since I sort of tore it up getting ready for these last few shows. And it'll be good to get myself back out in my running sneakers since I didn't do much of that in the last few weeks. I also started reading an interesting book a couple days ago called Nature Mysticism by J. Edward Mercer which was written in the early 1900s, so I'm hoping to make some time to plow into that as well. Plus, a little respite from it all with a short, tentative camping/ kayaking/ geode & artifact hunting trip with some adventurous women-folk in a week or so which should yield some new photos & stories.
This has been a really memorable trip that went by way too fast.. Til next time..