Music: Records.. I'm totally nerding out. Please pardon.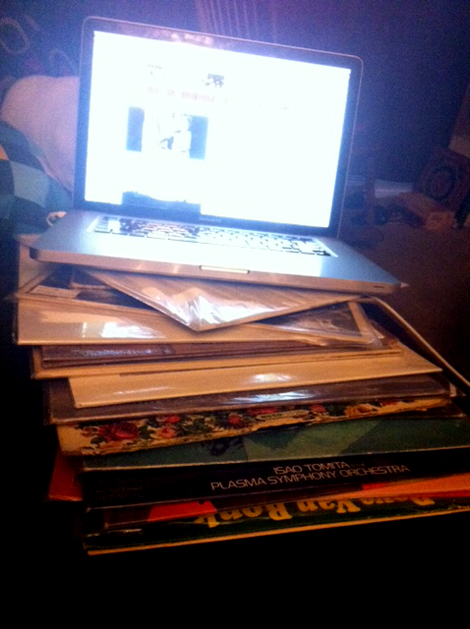 If you read my blog and haven't noticed yet, I'm a bit obsessive about music. I've visited three record stores in three different cities in the last four days… Vintage Vinyl in St. Louis & some record store in Columbia, MO (didn't buy anything there but almost did and ended up getting it at:) & Love Garden (as always) today in Lawrence (thank you fellas for pushing some of this music on me and for ordering my special requests..).. Anyway, don't read on if you're bored already. I'm always searching for something — and with records, there's always something new to find. I promise, there's paper cutting blog posts to follow shortly. Here's what I picked up:
Yves & Serge & Victor (France) reissue from a private issue of only 300 records in 1975
Leo Kottke – Circle Round The Sun and 6 & 12 String & Guitar (I should have the latter already but I don't)
Riley – Grandma's Roadhouse (http://therisingstorm.net/riley-grandmas-roadhouse)
Jim Ford – Harlan County (who can resist a song "I'm Gonna Make Her Love Me Til The Cows Come Home)
Les McCann – Layers
Guitar Mood 2 – More Rare Instrumentals from the New and Olde Worlds
George Jones – Trouble In Mind
Spider John Koerner – March 1963
Buffalo Springfield – Again ($1 bin..)
Isao Tomita (4 different records of crazy synthesized music) – Pictures at an Exhibition, Snowflakes Are Dancing, Grand Canyon (with the Plasma Symphony Orchestra), and Bolero
Christine Perfect (McVie) – The Legendary.. (what I almost bought in Columbia, but got in Lawrence)
Happy & Artie Traum – Hard Times In The Country (completes my H. & A.T. collection – way excited)
Dave Von Ronk – Gambler's Blues
Happy Traum – Relax Your Mind (always trying to HT, seriously, ain't always easy..)
Rod Stewart – Gasoline Alley
Jorma Kaukonen – Jorma
I'm all set for awhile..