Philosophical Ramble Jamble: Self-Adjustment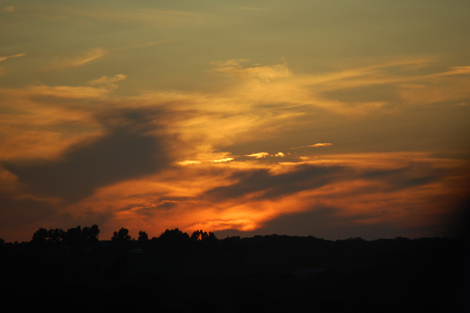 I've been having a continuous dialog with one of my oldest friends, who, in a nutshell, is beginning down a new path of self-discovery. I picked up a book sitting on my coffee table this morning and opened it to a random page to see what would jump out at me, and this is what I read and ended up sending to her. I think it's worth sharing. From "Practical Mysticism" by Evelyn Underhill (read the full book online here: http://www.ccel.org/ccel/underhill/practical).
So, in a measure, you have found yourself: have retreated behind all that flowing appearance, that busy, unstable consciousness with its moods and obsessions, its feverish alternations of interest and apathy, its conflicts and irrational impulses, which even the psychologists mistake for You. Thanks to this recollective act, you have discovered in your inmost sanctuary a being not wholly practical, who refuses to be satisfied by your busy life of correspondences with the world of normal men, and hungers for communion with a spiritual universe. And this thing so foreign to your surface consciousness, yet familiar to it and continuous with it, you recognise as the true Self whose existence you always took for granted, but whom you have only known hitherto in its scattered manifestations. "That art thou."
This climb up the mountain of self-knowledge, said the Victorine mystics, is the necessary prelude to all illumination. Only at its summit do we discover, as Dante did, the beginning of the pathway to Reality. It is a lonely and an arduous excursion, a sufficient test of courage and sincerity: for most men prefer to dwell in comfortable ignorance upon the lower slopes, and there to make of their more obvious characteristics a drapery which shall veil the naked truth. True and complete self-knowledge, indeed, is the privilege of the strongest alone. Few can bear to contemplate themselves face to face; for the vision is strange and terrible, and brings awe and contrition in its wake. The life of the seer is changed by it for ever. He is converted, in the deepest and most drastic sense; is forced to take up a new attitude towards himself and all other things. Likely enough, if you really knew yourself—saw your own dim character, perpetually at the mercy of its environment; your true motives, stripped for inspection and measured against eternal values; your unacknowledged self-indulgences; your irrational loves and hates—you would be compelled to remodel your whole existence, and become for the first time a practical man.
But you have done what you can in this direction; have at last discovered your own deeper being, your eternal spark, the agent of all your contacts with Reality. You have often read about it. Now you have met it; know for a fact that it is there. What next? What changes, what readjustments will this self-revelation involve for you?